Step Into Your Power
5-Day (Free) Challenge
Discover how to expand your online business in an
authentic and empowered way.
Are you ready to step into your power as an online business woman? Are you tired of darting from one idea to another and rearranging your online business around the latest shiny object? Would you like some specific tactics you can use to actually decide how to grow your business in a way that will work for you?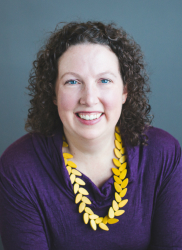 I'm Laura Brandenburg and I've built a multiple 6-figure online business by leveraging my unique talents, creating passive income products, and implementing systems of support to enable growth.
Along the way, I've learned from many mentors, coaches, and online programs. One truth I've learned (sometimes the hard way) is that building an online business is not about applying someone else's cookie-cutter system.
The power in my online business comes from me being me, and me making inspired, empowered decisions about how to grow and evolve my business.
This takes a lot of introspection. I journal every day about what's going wrong and what's going right. Along the way, I've stumbled upon some incredibly empowering and insightful questions – questions that have shifted how I think about my business, how I think about myself, and how I think about my life.
Those are the questions I want to share with you.
In this free 5-day challenge which starts Monday, March 13, you'll receive a series of journal prompts that will help you discover how to expand your specific business in an authentic and empowered way. You'll find answers to questions like what offers to make, how to get visible, and how to avoid burnout.
You'll journal about the following topics, each a key tactical piece of building a profitable, flexible, and financially freeing online business. What's more, inside each topic you'll find action steps you can take right away to expand your power in your online business:
Platform –Leverage your social media, email list, and website traffic to get visible in an authentic way.
Offers – Evaluate your services and products to be sure they are priced and structured powerfully.
Words – Choosing the right words to describe you and your business in an affirming way.
Energy – Finding and stopping energy leaks that take your power flow away from your business.
Resources – Letting go of guilt about the time and money you invest in your business.
Each day you'll journal on one aspect of your business and develop a list of key actions you can take to more fully embrace your power inside your online business. You'll leave the 5-day challenge with a set of action steps for expanding your power as an online business woman.
I hope you can join us. Enter your first name and email address in the box below to be part of the challenge.
I can't wait to help you discover how to best expand your online business. We'll start on Monday, March 13, when you'll receive an email with your first set of journal prompts.